ACT! Perpetual Pricing/Packaging
Remote Tech Group offers premier Act! services because ours is a "true" cloud-based hosting solution. We do not simply offer remote access, but a place for your data to live on the web. This is the fastest, most up-to-date solution for web based contact management software, at competitive prices.
Act! Hosting Services
Our hosting services (Sync and/or Web) are available to any company with an active Act! Software license. (Need to upgrade your Act! license? View our packages below.)
Our cloud-based hosting solution ensures your data is secure and increases productivity because your users can access and share information from anywhere.
We price our hosting solutions in an easy-to-budget cost per user structure. The pricing is as follows:
Act! Sync, Web & Mobile – $35 per named user*
Consulting services offered – Call for more details
Act! Training Services
1/2 Day onsite Training ( inc. up to 4 manuals ) $1,500
Full Day onsite Training ( inc. up to 8 manuals ) $2,500
Online Training available by the hour – Call for quote
—Onsite RTG Training is only offered in the state of Louisiana, and is taught by an Act! Premier Trainer.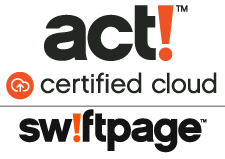 RTG is an authorized partner of ACT! LLC, providing a family of hosting & training Solutions for Act!